3 function in 1 YIHUA 853DA SMD rework station
Dear Customers
Recently illegal criminals counterfeit our machine that the machine we have independent intellectual
property rights .Use three non false and inferior to assemble the device,machine handle serious
security risks, the crisis to the user's safety. Recently, we will take action in every major internet
sales platform to take activism.Infringement of our intellectual property to promote fake and
shoddy products off the shelf as soon as possible to ensure the user's safety. Please must
be careful to identify when you purchasing, avoid fooled!
Patented products, counterfeiting not allowed
1).This products is designed based upon market research needs of a three in one tool, it combines together in one common tool (soldering station, hot air rework, and power supply for repairing mobile phones), these three functions can be used independently or simultaneously, it occupies less area, practical and saves energy, and the product's performance still on going to further improvement.
2). The product uses double-sided fiberglass circuit board material, the components installation processes are performed orderly to ensure the clarity of electric signal flow.
3). The Soldering station, Hot air rework's temperature are using Intelligent Fuzzy logic PID control, therefore the temperature steady-state drift is relatively small, it overcomes the drift quite
quickly even in a harsh environment.
5). Fan's airflow capacity, Soldering Iron and Hot air rework's temperature are all adjustable, the power supply voltage is shown on the LED digital display, and it is constantly updated.
6). Soldering iron, Hot air rework and dc power supply are using independent dual-core micro-controller, which means they can work independently, when the problem occurs on one tool it does not affect the others. Dual-core CPU is used to avoid failures.
7). Hot air rework, soldering iron are equipped by variety of fault protection
8). Power supply part of the recovery with continuous protection and RF protection, to avoid various unexpected burning mobile the phenomenon of interference.
9). The DC power supply provides power to a mobile phone , it can also
detect the RF signal's strength through the LED indicator.
10).Product is simple in design , therefore it can operate without too many keys involved.
11). Pioneering with handle safety protection, an industry-first, a docked handle in the handle holder is required each time prior to machine operation. If not (placed) in the handle holder, the operator will not be able to detect compliance with safety instructions and the machine will not work. The purpose of such a function is to prevent handle misplacement or accidental placement in unsafe or flammable (work) locations that could lead to undesirable consequences.
Parameters
parameters

Rated voltage

AC 220V±10% 50Hz

Total power

≤800W

Operating Environment

0~40℃ relative humidity<80%

Storage environment

-20~80℃ relative humidity<80%

Dimension

255*188*125mm

Weight

5.25KG

Performance Parameter

Hot air rework

Soldering iron

Operating Voltage

AC 220V±10% 50Hz

AC 26V±10% 50Hz

Output power

720W

50W

Temperature range

100℃~480℃

200℃~480℃

Air Supply Mode

Air Pump

---

Air Flow

24L/min(MAX)

---

Temperature Stability

±2℃ (Static)

±2℃ (Static)

Display Mode

red LED display

red LED display

Heating Core

Ceramic Framed Heating Core

Common Heating Core

Standard nozzles/tips

(10mm,8mm,5mm,13mm)

4 PCS nozzles

I

Tip-to-Ground Impedance

---

<2Ω

Tip-to-Ground Voltage

---

<2mV

DC power supply

Output voltage

0~15V

Output current

0-1A

Output Power

15W

Protection Mode

Short circuit over current

Voltage display Mode

red LED display

Current display Mode

Pointer display

Load stability

<0.01±2mv

Ripple and Noise

<1mvrms(virtual value)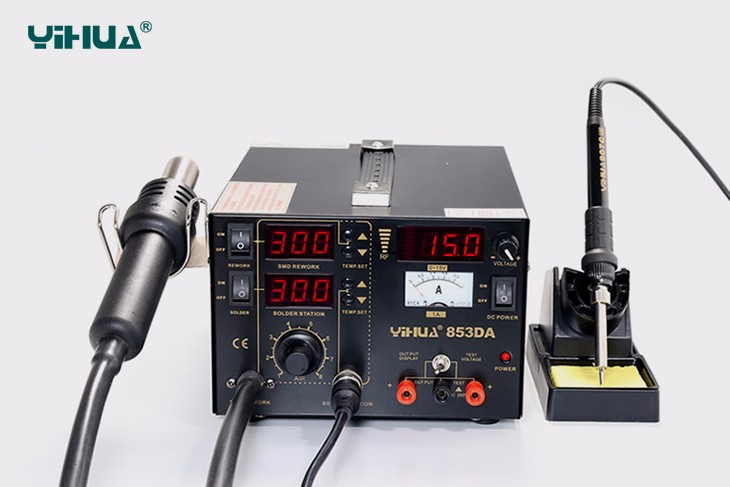 Application Scope
1.Electronic product assembly for industrial production
2.Product development for scientific research departments
3.Repair industry for electronic product inspection and maintenance
4.Soldering operations for electricians in various enterprises and institutions
5.Electronic assembly for electronic technology enthusiasts
6.Student skills training for a variety of electrical colleges
7.Suitable for a variety of component desoldering and soldering, such as: SOIC, CHIP, QFP, PLCC,
BGA, SMD, etc.
8.Suitable for heat shrinking, drying, painting, adhesive removal, thawing, preheating, plastic
welding, etc.
9.DC power supply suitable for scientific research, product development, laboratories, laptop maintenance, etc.