3 in 1 SMD Rework Station YIHUA 968DB+ with smoke absober
Patented products, counterfeiting not allowed
Patent No.: 2012306291727
1. Temperature controls utilize core technology, adopting microprocessor-PID programming for high-speed 100ms real-time tracking of air gun outlet temperatures and soldering iron tip temperatures, with real-time calibration! Outlet temperatures are extremely stable.
2.With PID high-speed 100ms rapid temperature calibration, conversions are energy-efficient, providing constant temperature power consumption at levels much lower than comparable machines, equating to greater energy savings!
3.Highly visual wind ball to show pump air pressure!
4. The air gun handle wire employs a high-temperature silicone wire (undamaged when 300o soldering tip contacts silicone wire for 30 seconds), stainless steel tubing, and a cutting-edge ceramic framed heating core for extremely stable and reliable performance!
5. Celsius/Fahrenheit Display Temperature Function: To satisfy market demand in different regions, the Company has designed a temperature display mode.
6. Soldering iron handle wire employs a high-temperature silicone wire (undamaged when 300o soldering tip contacts silicone wire for 30 seconds); the heating element employs an imported high-power heating element for fast temperature compensation, particularly suitable for de-soldering crude terminals, large joints, and difficult to reach spots, not to mention general solder joint de-soldering.
7. The soldering iron is designed with an anti-smoke function. Fumes generated from the soldering iron are immediately sucked away via dust sheet absorption and filtration. This function helps purify the air to provide a healthier, eco-friendly working environment. Never again will users have to worry about soldering iron fumes!
8. The soldering iron stand is made of iron alloy with a sponge-fixed base and a fixed axis for the soldering iron wiring for greater convenience.
9. Machine components are equipped with self-detection functionality for complete, intelligent overheating, short-circuit, open-circuit, overload, and fault indication and protection
10. The back of the machine features a main power supply switch. For added energy savings and greater safety, turn off the main power supply switch when the machine will not be used for a long period of time.
Machine Parameters

Rated voltage

AC 220V±10% 50Hz

Total Power

720W±10%(MAX)

Operating Environment

0~40℃ relative humidity<80%

Storage environment

-20~80℃ relative humidity<80%

Dimensions

255*188*125mm

Weight

4.83KG

Performance Parameter

Hot air rework

Soldering iron

Operating Voltage

AC 220V±10% 50Hz

AC 26V±10% 50Hz

Output power

550W

75W

Temperature range

100℃~480℃

200℃~480℃

Air Supply Mode

Air Pump

---

Air Flow

28L/min(MAX)

---

Temperature Stability

±1℃ (Static)

±1℃ (Static)

Display Mode

LED display

LED display

Heating Core

Ceramic Framed Heating Core

Imported High-Powered Heating Core

Tip-to-Ground Impedance

---

<2Ω

Tip-to-Ground Voltage

---

<2mV
3 in 1 SMD Rework Station YIHUA 968DB+ with smoke absober products pictures :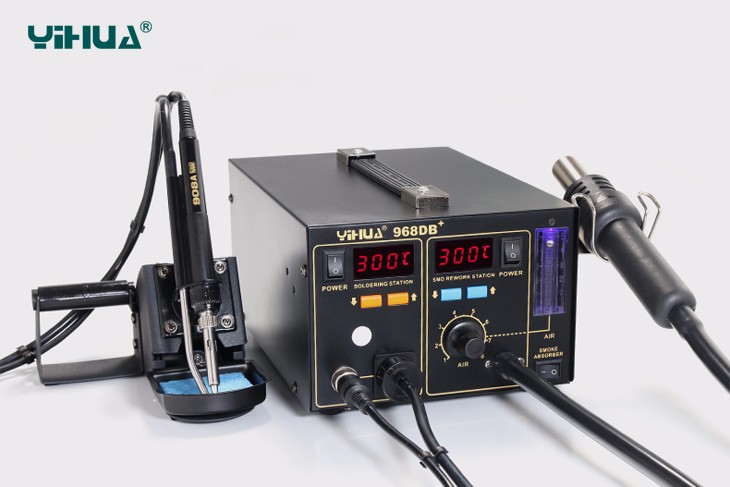 What's in the box
* main unit + gun + power cord
* guide

* soldering iron handle with smoke absorber
* soldering iron holder +gun frame+ clean spogne
* 4 nozzles+5pcs smoke absorber sponge
These are 220V units you may need a transformer to use the machine in your country. we also do accept special orders for 110V / 230V/ 240V units
Application Scope
1.Electronic product assembly for industrial production
2.Product development for scientific research departments
3.Repair industry for electronic product inspection and maintenance
4.Soldering operations for electricians in various enterprises and institutions
5.Electronic assembly for electronic technology enthusiasts
6.Student skills training for a variety of electrical colleges
7.Suitable for a variety of component desoldering and soldering, such as: SOIC, CHIP, QFP, PLCC,
BGA, SMD, etc.
8.Suitable for heat shrinking, drying, painting, adhesive removal, thawing, preheating, plastic
welding, etc.