YIHUA 853D 1A USB rework station with LED light
1.Based on the Company's revolutionary, innovative design and meeting existing demands of the communication market, this all-in-one machine uses the latest chip technology and integrates a DC power supply, hot air gun, and soldering station.
2.Temperature controls utilize core technology, adopting microprocessor-PID programming for high-speed 100ms real-time tracking of air gun outlet temperatures and soldering iron tip temperatures, with real-time calibration! Outlet temperatures are extremely stable.
3. With PID high-speed 100ms rapid temperature calibration, conversions are energy-efficient, providing constant temperature power consumption at levels much lower than comparable machines, equating to greater energy savings!
4. The air gun handle wire employs a high-temperature silicone wire (undamaged when 300o soldering tip contacts silicone wire for 30 seconds), stainless steel tubing, and a cutting-edge ceramic framed heating core for extremely stable and reliable performance!
5. The air gun features manual/automatic work mode conversion and C/F function work mode conversion ,can choose one of it,when you buy it,please note,thanks.
6. The soldering iron features a sleep function that can be set 10 minutes.
7.This new type add to 5V output USB interface ,it more convenience repair mobile phone,also can use power supply for mobile.
8.All parts is LED digital display ,and the current is 4 digital precise display current value,the current value can precise display mA value.it is very directly perceived through the senses.
9.The soldering iron has an iron tip cleaner and internal rosin. The rosin aids in the soldering of circuit boards by removing oxide films on the iron tip, reproduces oxidation, reduces iron tip surface tension, and rapidly removes oxides.
10. Pioneering with handle safety protection, an industry-first, a docked handle in the handle holder is required each time prior to machine operation. If not (placed) in the handle holder, the operator will not be able to detect compliance with safety instructions and the machine will not work. The purpose of such a function is to prevent handle misplacement or accidental placement in unsafe or flammable (work) locations that could lead to undesirable consequences.
11. With small LED light, more conveniently.
Technical Data:
Rated voltage: AC 220V±10% 50HZ ( 110V±10% 50HZ)
Total Power: 700W+50W+15W=765W±10%(max)
Work environment : 0-50°C
Iron parts

Gun parts

Dc power supply parts

Work Voltage :AC:26V±10% 50HZ

Work Voltage: AC:220V±10% 50HZ\( 110V±10% 50HZ)

Work Voltage:AC 20V±10% 50HZ\ ( 110V±10% 50HZ)

Output power:50W±10%

Output power:700W±10%

Output power:15W

Temperature range:200°C-480°C

Temperature range:100°C-480°C

Output voltage:0-15V

Output current:1A

Temperature stability:±2°C

Temperature stability:±2°C

Load stability:<0.01±2mv

Tip of ground impedance<2ohm

Recovery time:<100us

Tip of ground voltage<2mV

Ripple dB<1mvrms (virtual value)

Temperature coefficient:<300PPm/°C

Protection starting current:>standard value 10%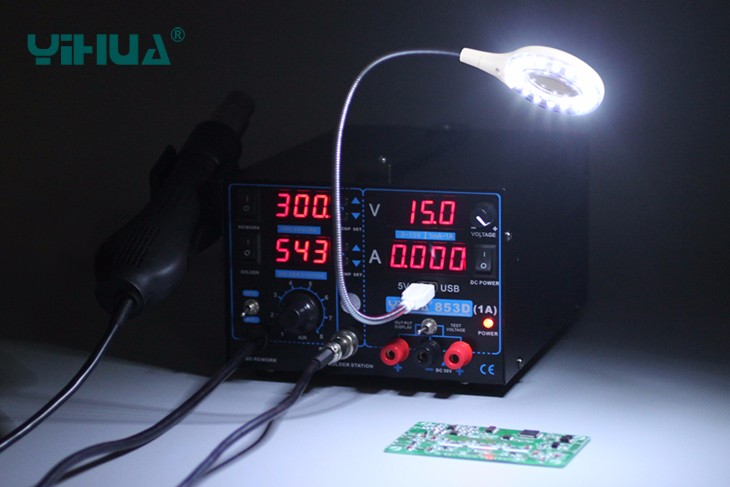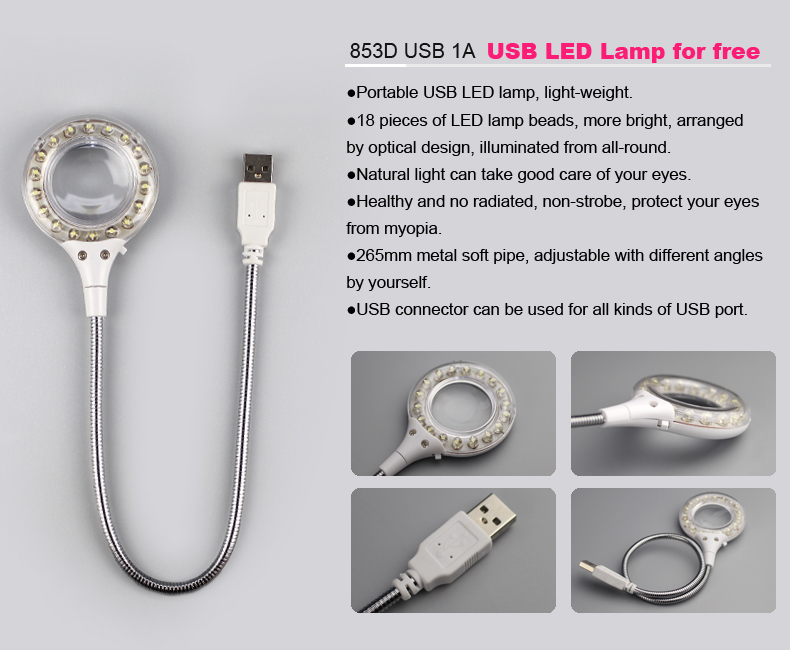 * main unit + gun + power cord
* guide
* soldering iron
* soldering iron holder +gun frame+testleadest cable
* 4 nozzles
*1 LED light
SHIPPING
You could arrange to ship the goods by your self , or ask we help you arrange to ship. If we help you arrange
to ship. Before quote the shipping freight, we need to know which model and quantity you are asking. We will
according your detail address, order model and quantity to advise you ship by sea or, by air ,or by Express.
Delivery date
Over 100~over 500pcs are 20days will ship out. Over 1000pcs are 30days .
If the material not enough or we have some customer queue up our products before you,
we will discuss with you the shipping date. If you want the delivery date faster than that day, please inquiry us,
we will try to do it as your request.
*Warranty policy
One Years warranty
As usual, the shipping fee are high. if return China to repair are not worth the money. So we could support technology and give you the spare parts along with the product .
Note warranty does not cover wearing parts, for example iron heater, gun heater ,iron tips.
*Products discount
as usual we quote three price for each model sample price, over 60pcs price, over 500pcs price.
Those price are calculate our produce cost, as you know big order are less margin to sell. we hope take win-win business with both.
*Warm-heart note
1.If products upgrade or quality improve to change the technique parameter, the factory will not further notice.
2.If the customer haven't special request, the product in accordance with factory's setting quality standards to produce.